1st Online PBS-Europe International Conference
The PBS-Europe Network and BILD PBS Alliance are pleased to invite you to the first European conference. We will come together in a 3-day virtual gathering featuring leading practitioners, researchers, and experts from around the European continent to explore, share and discuss how Positive Behavior Interventions and Support has been implemented in schools throughout Europe and the UK the past ten years and the way forward.
This 1st virtual PBS-Europe conference will take place in the week of November 9th to 13th, 2020. During this week, a series of PBS activities will be conducted such as a SWPBS Coaches' Training Programme, a Network members' meeting, and the 3rd PBS-Europe Research Symposium. All will be offered online. For the SWPBS Coaches Training there is an extra fee, all other activities are free of charge.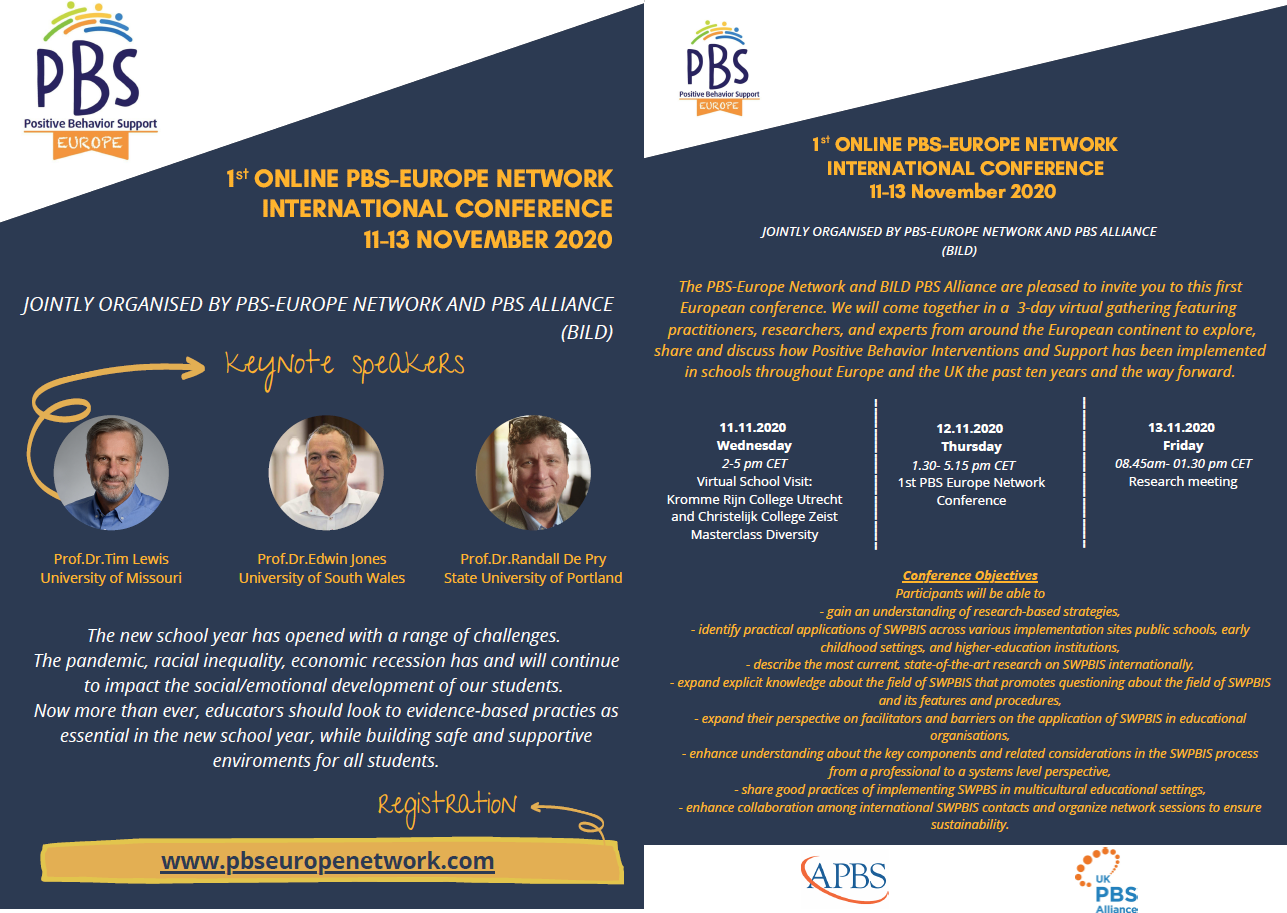 Conference theme: Valuing Diversity in PBS
The theme of 2020 PBS-Europe is packed into one catching statement 'Implementing PBIS in our culturally and linguistically diverse schools'. This theme reflects how the European PBIS educators and researchers approach activities enacted within the framework of PBIS: culturally relevant, equitable, and rooted within an ecological diverse context. We are dedicated to follow the science and principles of Positive Behavior Support (PBS) as well as utilize its applications in a culturally responsive manner to produce meaningful social and socio-emotional changes in the lives of children, teachers and parents across school and community settings in Europe.
Activities during 1st PBS Europe 2020 International Online Conference week
Who should attend?
Educational practitioners, Teachers, Researchers, Doctoral students, Social workers, Psychologists, School principals, Administrators, PBS coaches, Policy makers, Behavioral specialists

Conference Objectives
Participants will be able to:
● Gain an understanding of research-based strategies;
● Identify practical applications of SWPBIS across various implementation sites public schools, early childhood settings, and higher-education institutions;
● Describe the most current, state-of-the-art research on SWPBIS internationally;
● Expand explicit knowledge about the field of SWPBIS that promotes questioning about the field of SWPBIS and its features and procedures;
● Expand their perspective on facilitators and barriers on the application of SWPBIS in educational organisations; and
● Enhance understanding about the key components and related considerations in the SWPBIS process from a professional to a systems level perspective.
● Share good practices of implementing SWPBS in multicultural educational settings
● Enhance collaboration among international SWPBIS contacts and organize network sessions to ensure sustainability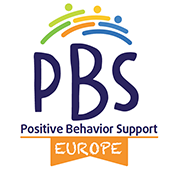 Organising partners
The Positive Behavior Support-Europe (PBS-Europe) Network and the UK PBS Alliance Network (hosted by Bild), both accredited networks under the Association of Positive Behavior Support (www.apbs.org), will co-organise the event with these institution partners:

Windesheim University, VU Amsterdam, Fontys University (all Netherlands)
Ramon Llull University (Barcelona, Spain)
University of Oldenburg (Germany)
University of Nicosia (Cyprus)
Jyvaskyla University (Finland)
Olumlu Davranis Gelistime Dernegi (ODGERER, Istanbul, Turkey)
CPT Estel (Sant Tomàs, Vic, Spain)
KrommeRijn College (Utrecht, Netherlands)
Christelijk College Zeist (Netherlands)
Counselling Division for Children with Developmental Disabilities (Vilnius, Lithuania).