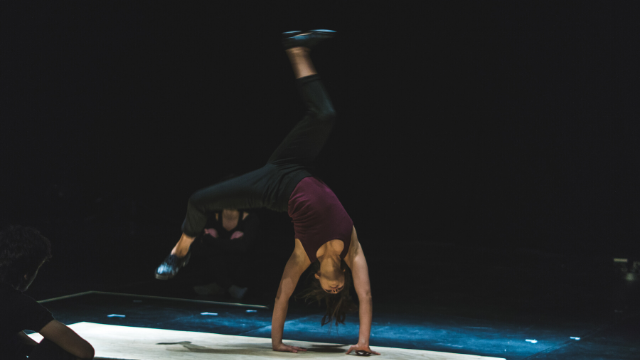 Maria de campos Camacho Franco Madeira, or easily said: Maria Madeira, is a Portuguese circus and dance artist and last year student at ACaPA (Academy of Circus and Performance Art.)
Maria combines her dance background with circus in a solo discipline known as dance-acrobatics. Even though she likes her solitary relation to the floor, recently she has been doing more collaborative work. One of her recent projects goes by the name 'The Limited Encounters' in which, together with colleague circus-artist Hendrik Van Maele, they conduct performative encounters. They approach their performances as "making physical conversation", the focus switches between the dialogue with: themselves, the other, and music.
Besides creating her own work, for the past 2 years, she has been working with dance company The100Hands, and touring as a performer with Show me.
This year she has started a creation with Overhead project, a circus company that is merging dance and circus. When asked what she likes about being part of 'What's Left', the new creation by Overhead Project, Maria says: I look forward to integrating various interests that, up until now, have remained separate.
About Madeira (meaning wood in Portuguese) we read on Wikipedia " In a living tree it performs a support function, enabling plants to grow large or to stand up by themselves", so we may conclude that by nature Maria is a team player.