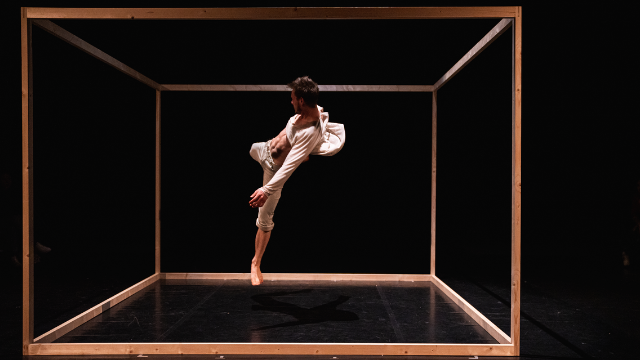 photo: Jona Harnishmasher
I am interested in approaching the creation in different ways, getting inspired from other artistic disciplines and especially other artists.
As a highly intuitive multi-pluri-inter and transdisciplinary artist, I am always busy with my body and my mind creating art. Movement, especially shared by one or more partners as well as sound are my current main concerns.
Despite using circus and rather concrete actions, I would situate my work in between the abstract and absurd categories, with a strong fondness for dark and violent emotions, balanced by a soft touch of humor.
Portret movie
Jacques de Leeuw Prijs 2020
Nomination Jacques de Leeuw Prijs 2020
Samuel Rhyner
Academy of Circus and Performance Art
Fontys Academy of Circus and Performance Art (ACaPA) has nominated Samuel Rhyner for the Jacques de Leeuw Prijs. In our opinion, Samuel has proven to be an interesting performer and inspired creator with a promising future.

Whilst studying at ACaPA, Samuel has focused on developing his skills in acro dance. Throughout his study, he has developed a high technical level in acrobatics. He actively seeks out enriching and inspiring his practice through acrobatic and movement workshops. He investigates in movement the extremities of physicality in performance. Besides acro dance, Samuel has invested many hours in developing other performing and creative skills. He has trained Cyr wheel, partnering and has focused on composing music as well. All the performances he creates are accompanied by his musical compositions.

Samuel has taken advantage of being surrounded by like-minded performers, initiating collaborations such as Simio Kollektiv with four classmates and Les Payenkes Utopistes with ACaPA graduate Saphia Loizeau. With this last-mentioned company, Samuel has been very active, performing in various festivals, touring through Europe and organizing an artistic laboratory for movers and musicians.

Samuel has an outspoken vision on performance, wishing to not be limited by one discipline, but looking to blur borders between art forms. Samuel has an urgency to create as a form of self-expression and takes inspiration from other art forms for his creative process. His creations start from artistic vision and then explore how this vision can be best expressed on and translated to the stage.

We are convinced that through his work as a performing artist, Samuel Rhyner will contribute to the reputation and the distinction of the Academy of Circus and Performance Art.