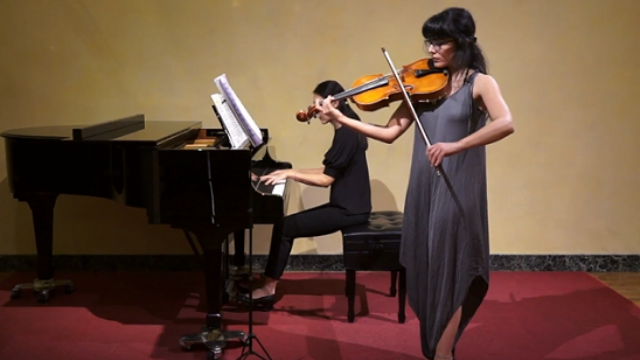 During my master studies at Fontys, I had the opportunity to meet extraordinary people who guided their students with devotion. My viola teacher, Jenny Spanoghe, to whom I have nothing but appreciation and admiration to feel for, my coach, Reineke Broekhans, my research supervisor Emlyn Stam, the rest of the teachers and the office employees were always there to support me.
In the international environment of Fontys in Tilburg, I met students of a very high level from all over the world with whom we shared our dreams and wishes for professional development and I was proud to study alongside with them.
During my studies, I had individual and group lessons and master classes with internationally acknowledged musicians and professors but also, I had the opportunity to participate in international professional activities, as well. After completing my Master studies at Fontys, I have developed my skills as a viola performer and a professional musician and as a personality, in general. I feel thankful to Fontys, the head of studies, Marcel Andriessen and all the people who helped me through my studies and my first professional steps into the classical music work scenery.
I traveled a lot of times from Greece to the Netherlands back and forth during my studies, involving myself in international activities and I would like to close this short review of my musical journey with Oscar Wilde's quote from his fairytale, the remarkable rocket, "Just look at those yellow tulips. Why! If they were real crackers they could not be lovelier. I am very glad I have travelled. Travel improves the mind wonderfully, and does away with all one's prejudices."