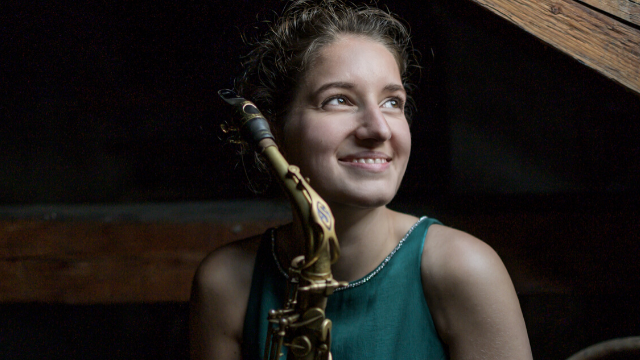 I am an ambitious, versatile artist, full of energy and creativity who's always curious and open for new projects, ideas, culture and the well-being of a musician.
The music I play is mostly contemporary or improvised music. As a saxophonist I am focusing on "how can I bring the music to the audience?" and which message I want to share. For me it's important that the audience not only has a nice concert evening but that I can also share with them a deeper message or story. I also often work together with other disciplines to create one interdisciplinary performance.

Aside for my musical skills, I am passionate about the personal development of lifestyle engineering and creating body-mind awareness through mindfulness, nutrition, and sports and mental training, leading to interests for a total body-mind performance.
Nomination Jacques de Leeuw Prijs 2020
Sonja Oberkofler
Academy of Music and Performing Arts


"Thinking about Sonja, immediately three words pop up to characterize her: openness, passion and professional drive. Sonja is one of the most open minded people AMPA has ever had. She is a saxophonist-composer interested in classical and new music, interdisciplinarity, education, electronics, mindfulness, nutrition, sports, mental health, organization, management, co-determination, languages...
She is really passionate about combining all those important personal interests in her way of living as a musician. Her infectious enthusiasm has resulted in a large network of musicians, composers and artists who are eager to work with her.
Working together with Sonja is all about purposefulness and preciseness. Her professional attitude and drive motivate her to be present at a lot of concerts, lectures, debates, expositions in the Netherlands, but also have already brought her in Italy, Germany, Spain, Switzerland, etc. And she worked with famous groups and artists like Bang on a Can and ASKO/Schönberg.
Winning the Junior Grachtenfestival with the educative project The Town Musicians of Bremen, pioneering and exploring new regions in new music with her Duo Integra (sax, electronics & electric guitar), being an entrepreneurial, social, open minded omnivore with a fascination for interdisciplinarity, makes her the most obvious candidate to win the Jacques de Leeuw Prize!"