Minor Enterprise Resource Planning & Business Intelligence (ERP & BI) English
'Steering companies using ERP, BI and Big Data'

Controlling organizations today demands increasingly higher management efforts, because, it is often difficult to get a clear picture of the performance of an organization. The need to use a management model for developing a strategy and to execute that strategy, forms the basis to rearrange and to control new business processes with advanced and integrated software such as an Enterprise Resource Planning system (ERP). In this way, a broad data foundation for the visualization of process indicators is available for analyzing the business performance in depth. And these analytics are used to initiate adjustments actions by the management. The needed collection, analysis, reporting and visualization takes place using modern software facilities, known under the name of Business Intelligence (BI).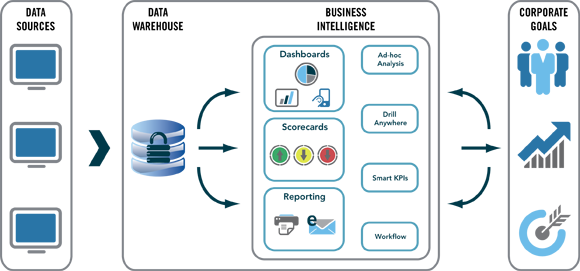 This minor explores some important issues, such as management models in relation with the mission and strategy of an organization. Another issue is about determining objectives and translating objectives into performance indicators and various reports. Moreover, the structure and coherence of different business processes will be discussed, but also the related support from an ERP (the minor uses SAP). Designing, organizing and employing an architecture with modern ICT in which the data from the ERP and other data sources are collected and registered, are an essential part of the minor. That architecture is mainly aimed at providing essential information to the management, for the purpose of analyzing and controlling business performance at a tactical and strategic level in organizations. Within the BI are therefore various facilities. This applies with regard to a data warehouse, analytic applications (OLAP), dashboards, data mining, information graphics and the new phenomenon Big Data. That means you not only get presented theory, but also in a practical sense gain proficiency with modern tools from different vendors.
Samenvatting voor diplomasupplement
Samenvatting voor diplomasupplement:
The Minor ERP&BI : 'Steering companies using ERP, BI and Big Data' (30 EC's) is concluded in a semester with the following subjects:
Business Audit and Processes, ERP Processes & Data Analysis, ERP Customizing, Business Intelligence and Data Warehousing, KPI's and Dashboards, Big Data, Statistics for BI and BD, Data mining, Data Visualization and Story Telling.
Minor regulation
Here you can download the minor regulation for the academic year 2016-2017. The purpose of the minor regulation is to inform you about the subjects within the minor, how the testing is set up and when you have conclude the minor. Students can derive rights out of the text of the minor regulation.

De minor valt onder de verantwoordelijkheid van Fontys Hogeschool ICT.
Additional information
Language: English
Location: Eindhoven, Rachelsmolen