Programme Engineering & Technology in Practice 2023
Location:
De Rondom 1 (Nexus building, TU/e terrein), 5612 AP Eindhoven
14.00 - 14.30 uur - Opening (Room 3.42)
The opening will be hosted by Ella Hueting (managing director Fontys Engineering) and Joep Houterman (Fontys chairman of the board).
14.30 - 16.30 uur - Pitches and Presentations
On the 1ste, 2nd, 3rd and 4th flour students groups from the second, third and fouth year of Automotive Engineering, Electrical and Electronic Engineering, Mechatronics and Mechanical Engineering present their projects via pitches and presentations. Below you find the schedule per time block.
16.30 uur - Closing Ceremony (Room 3.42)
During the closing ceremony the jury and audience award will be annouced. All participating student teams, staff and visitors are welcome to attend this closing ceremony.

Audience Award
Visitors of the event can nominate a project for the audience award. Write the name of project on the flyer given to you at the entrance.
Floor Plan Nexus Building
First Floor (Entrance)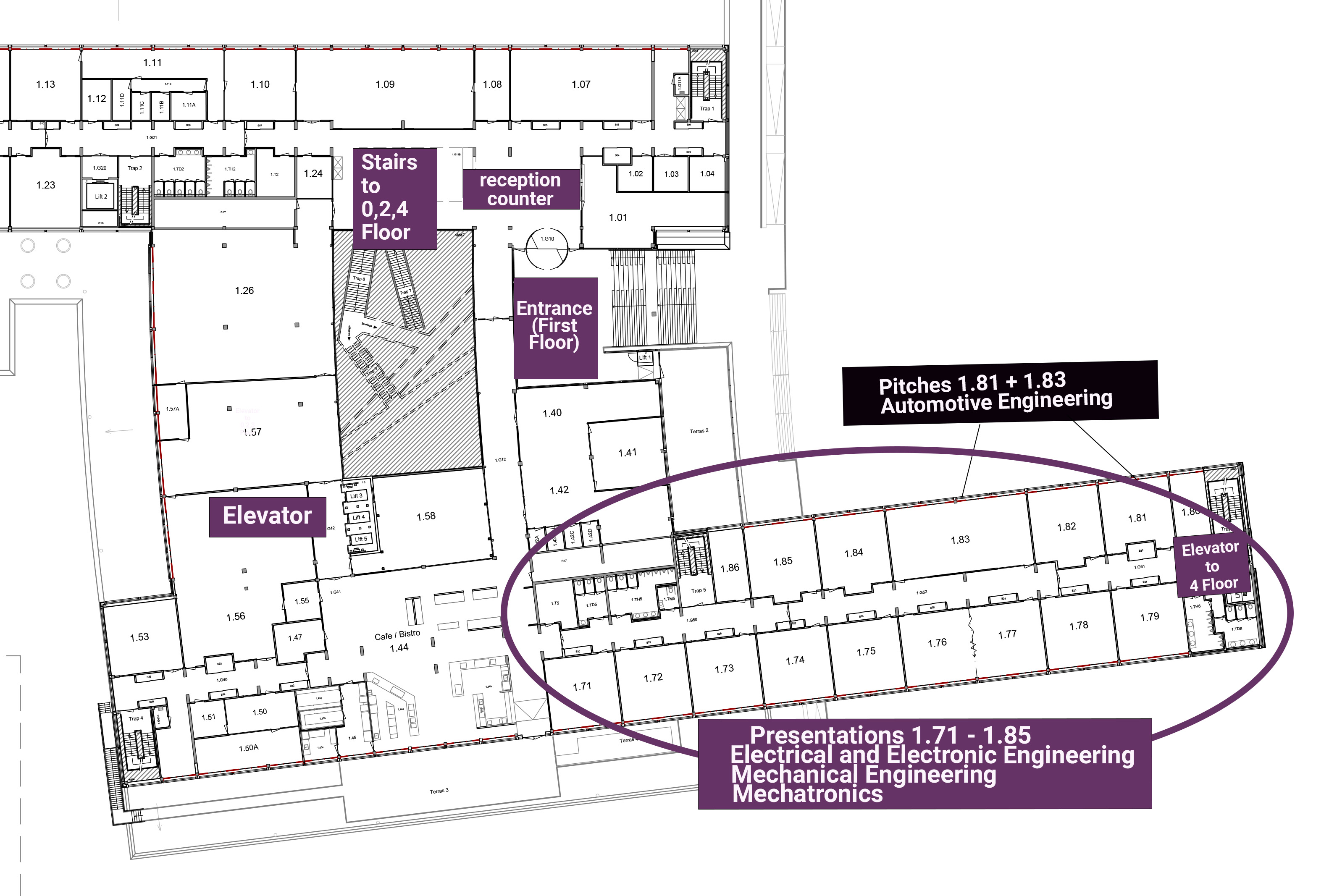 Ground Floor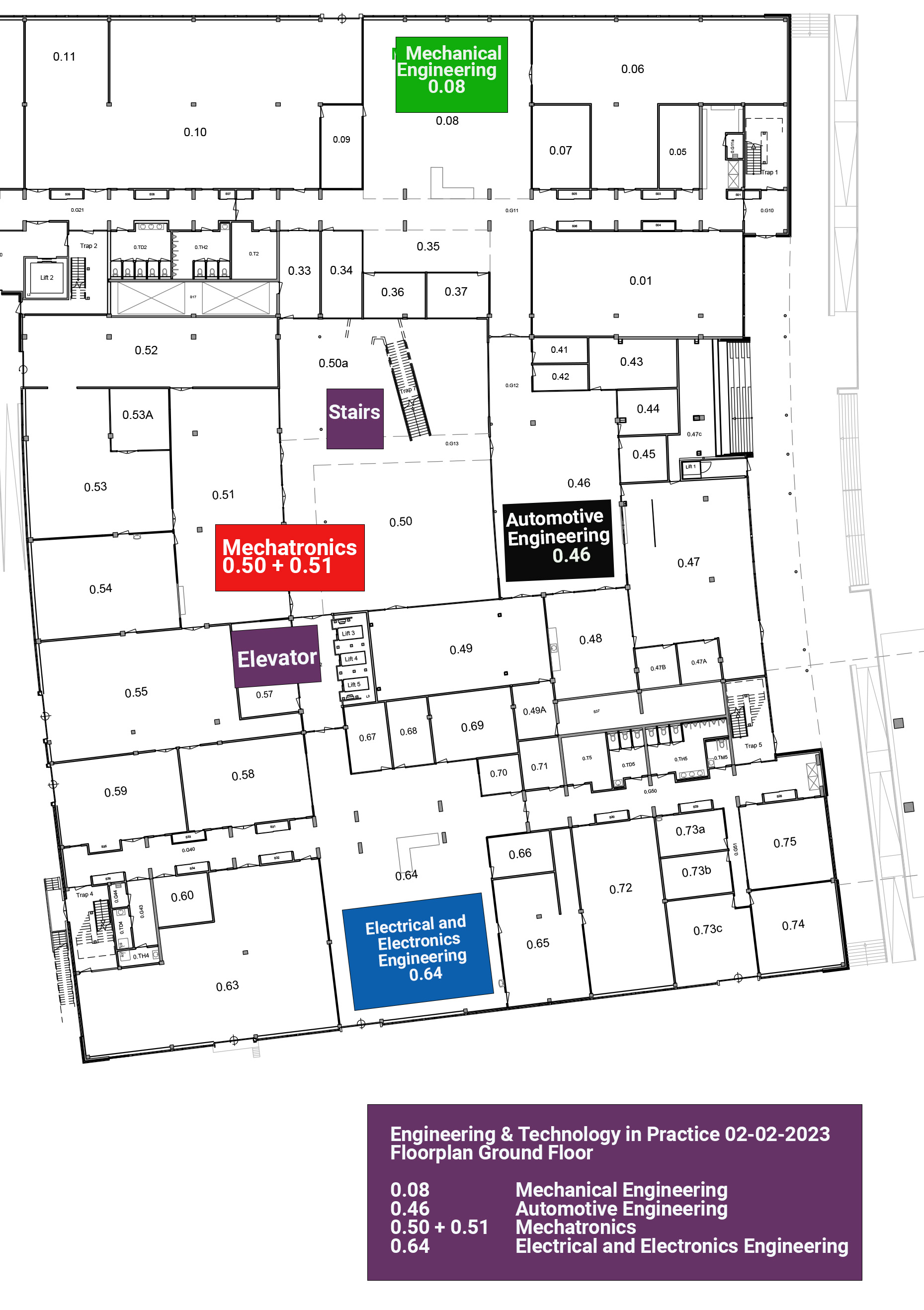 Third Floor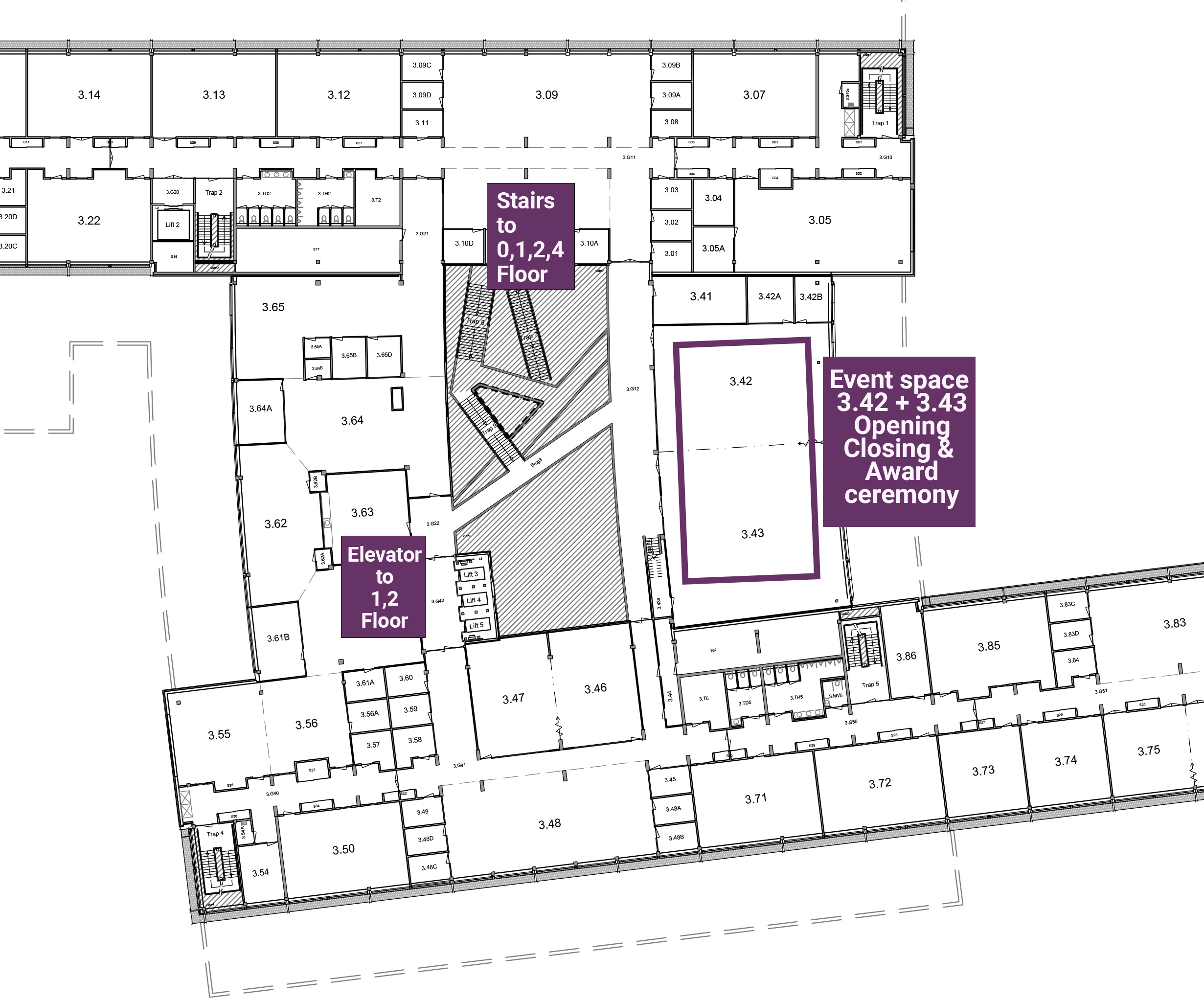 Fourth Floor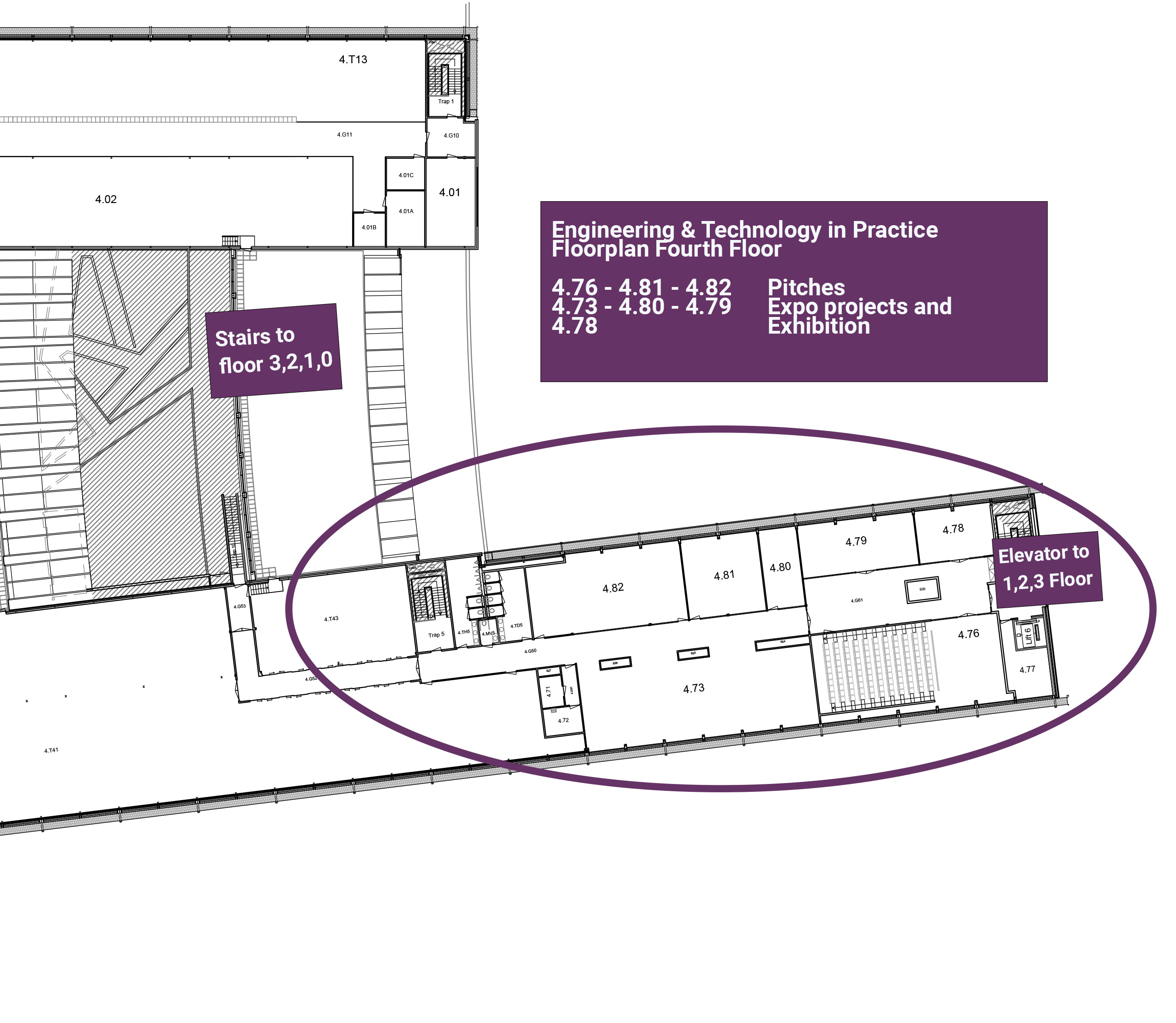 14.30 - 15.00 u
PRESENTATIONS
| | | |
| --- | --- | --- |
| 14.30-15.00 | | |
| Project | Education | Classroom |
| ALTEN Smart Factory | Mechatronics | 1.75 |
| Animatronics | Mechatronics | 1.78 |
| Cooling electronics with PCM | Mechanical Engineering | 1.72 |
| Digital Twin - Smart Storage | Mechatronics | 1.77 |
| Feeler | Electrical and Electronics Engineering | 1.74 |
| Nexus to Nill | Electrical and Electronics Engineering | 1.80 |
| Project D. Bicycle part manufacturing, VDL Fibertec | Mechanical Engineering | 1.79 |
| Rolling pendulum | Electrical and Electronics Engineering | 1.73 |
| Change of Mass Underwater Vehicle | Mechatronics | 1.71 |
PITCHES
| | | |
| --- | --- | --- |
| 14.30-14.40 | | |
| Project | Education | Classroom |
| NXP cup | Expo project | 4.76 |
| Sound engineering - amplifier design | Expo project | 4.82 |
| Sound engineering - MSL design | Expo project | 4.81 |
| 14.40-14.50 | | |
| Determination of the exact battery state (Deijne) | Automotive Engineering | 1.81 |
| Driver aid sensors | Automotive Engineering | 1.83 |
| Future Energy Home Demonstrator | Expo project | 4.76 |
| Glow project Wayfinding | Expo project | 4.81 |
| Hovercraft Race Measurement with Vision | Expo project | 4.82 |
| 14.50-15.00 | | |
| Arduino based ECU for internal combustion engine cars | Expo project | 4.82 |
| Handling of used battery packs (Udenhout) | Automotive Engineering | 1.81 |
| Rendementsbepaling van aandrijflijn in elektrische kart | Automotive Engineering | 1.83 |
| Test Tube Elavator | Expo project | 4.81 |
PRESENTATIONS
| | | |
| --- | --- | --- |
| 15.00-15.30 | | |
| Project | Education | Classroom |
| Anxiety and stress recognition in people who cannot communicate | Electrical and Electronics Engineering | 1.76 |
| Cleaning asbestos particles agroroofs (AAP 1) | Mechatronics | 1.78 |
| FLUFFY Formula 1 assembly | Mechatronics | 1.77 |
| Lets' beat waste (Glow 2022) | Electrical and Electronics Engineering | 1.74 |
| Light4food Detection of Crop Cutting Height | Mechatronics | 1.71 |
| Newsecure Interceptor | Mechatronics | 1.75 |
| Project A. Design of a Refilling Module for Refilling Bulk Products in Supermarkets, We fabricate | Mechanical Engineering | 1.72 |
| Project C2. Carbon fiber 3D printing, GEA | Mechanical Engineering | 1.82 |
| Self steering car | Electrical and Electronics Engineering | 1.80 |
| Wireless Robotic Ants: Chemistry and Electricity in Nature | Electrical and Electronics Engineering | 1.73 |
PITCHES
| | | |
| --- | --- | --- |
| 15.00-15.10 | | |
| Project | Education | Classroom |
| Benda press and print | Expo project | 4.82 |
| Course Sign Mechanical Engineering | Expo project | 4.76 |
| Papieren vliegtuig vouw en werp machine | Expo project | 4.81 |
| Validation sensor models | Automotive | 1.81 |
| Wheel suspension NOVAFAST | Automotive | 1.83 |
| 15.10-15.20 | | |
| Automotive Noise Vibration Harshness | Automotive | 1.83 |
| Course Sign Mechatronics / Electronics | Expo project | 4.76 |
| Robohub_Eindhoven Soft Addaptive Shapeshifting Gripper | Expo project | 4.81 |
| Validation of simulatie tool voor digital twinning | Automotive | 1.81 |
| Wheelchair Elavator | Expo project | 4.82 |
| 15.20-15.30 | | |
| Digital contour duplicator | Expo project | 4.76 |
| Handling of used battery packs (Udenhout) | Automotive | 1.81 |
| Nut and Bolt sorting machine | Expo project | 4.82 |
| Windtunnel-2022 | Automotive | 1.83 |
PRESENTATIONS
| | | |
| --- | --- | --- |
| 15.30-16.00 | | |
| Project | Education | Classroom |
| Battery-pack health monitoring and lifetime extension | Electrical and Electronics Engineering | 1.74 |
| GTL prio 1 - Nematodes | Mechatronics | 1.78 |
| iHeat: The sensing and control system for a thermal battery central heating system | Electrical and Electronics Engineering | 1.80 |
| Motor controller for custom eBike motor | Electrical and Electronics Engineering | 1.76 |
| Pressure and position sensing glove for virtually sculpting corrective footwear | Electrical and Electronics Engineering | 1.73 |
| Project C1. Carbon fiber 3D printing, ITEC | Mechanical Engineering | 1.72 |
| Project F. Sioux: Design of an accurate linear product transport system | Mechanical Engineering | 1.82 |
| Riley: Remote inspection with Low-cost robots | Mechatronics | 1.75 |
| ROBOHUB robot development robocup@work | Mechatronics | 1.71 |
| The ultimate toilet bowl cleaner | Mechatronics | 1.77 |
PITCHES
| | | |
| --- | --- | --- |
| 15.30-15.40 | | |
| Project | Education | Classroom |
| Football Shooter Robot - Platform (TU/e) / vliegtuig schieter | Expo project | 4.76 |
| ROOF.AAP project SEAL | Expo project | 4.81 |
| T-Cycle | Expo project | 4.82 |
| VIDAQ (Vehicle Independent Data Aquisition) | Automotive Engineering | 1.83 |
| 15.40-15.50 | | |
| Development of an EMC Radiated Emission Pre-Compliance Antenna setup | Expo project | 4.81 |
| Dynamometercar | Expo project | 4.76 |
| Modulair Chassis parts | Expo project | 4.82 |
| 15.50-16.00 | | |
| Data acquisitie en analyse EZESC | Automotive Engineering | 1.83 |
| Interactive children's book with interactive 3D printed octopus | Expo project | 4.81 |
| Portal Crane Control System | Expo project | 4.82 |
| Vanderlande | Expo project | 4.76 |
PRESENTATIONS
| | | |
| --- | --- | --- |
| 16.00-16.30 | | |
| Project | Education | Classroom |
| Energy roundabout | Mechanical Engineering | 1.72 |
| GTL prio 2 - Strawberry harvest | Mechatronics | 1.77 |
| H-drive precision XY-stage implementation | Mechatronics | 1.78 |
| Programmable Inflatables | Electrical and Electronics Engineering | 1.74 |
| Project E. Scalable solution for high volume gluing, AAE | Mechanical Engineering | 1.82 |
| Self dancing cobot control | Mechatronics | 1.71 |
| VBTI Intelligent Crop Measurement | Mechatronics | 1.75 |
PITCHES
| | | |
| --- | --- | --- |
| 16.00-16.10 | | |
| Project | Education | Classroom |
| Candy Canon System II control | Expo project | 4.76 |
| Composite printing Research printing on prints | Expo project | 4.82 |
| Data acquisitie eGLM | Automotive Engineering | 1.83 |
| 16.10-16.20 | | |
| In-wheel motoren Nimbus | Automotive Engineering | 1.83 |
| MTA lift system | Expo project | 4.82 |
| TinyTronics_Robotic precision wire cutter | Expo project | 4.76 |
| 16.20-16.30 | | |
| Candy Canon System I, mechanical | Expo project | 4.76 |
| Frontwheel pedal system | Expo project | 4.82 |